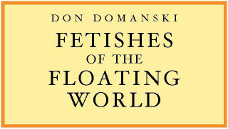 A flash mob of ants. Maple saplings growing up through an abandoned car. A landscape haunted by what is neither ghost nor spirit nor angel.

In this suite of eighteen exquisite poems, Don Domanski contemplates our place in the natural world with an agnosticism bordering on faith.

Don Domanski was born and raised in Cape Breton and now lives in Halifax. The author of nine books of poetry, he is a recipient of the Governor General's Award, the Atlantic Poetry Prize, and the Nova Scotia Masterworks Arts Award.

His work has been translated into French, Spanish, Czech, Portuguese, Arabic, and Chinese.

"If a modest intention of poetry is to stop time, then Don Domanski succeeds masterfully in Fetishes of the Floating World. This numbered series of eighteen reflective poems, published by espresso (an imprint of paperplates books) in a beautifully crafted chapbook, is in lockstep with eternity."
— Nicholas Power, Cadence #4

4.75 x 8.5 in., 28 pages, hand sewn and bound, with french flaps

ISBN 978-0-9866214-2-0

Published, May 2015, in an edition of 150 numbered copies.

Price: $12 + $2 S/H
To purchase a copy, click on the button above.